We organize through a love ethic, understanding that our collective liberation and freedom is rooted in a love for ourselves and each other and putting that at the forefront of our political practice.
Liberation is our Politics & Love is our Ethic.
Join SDL for a self-defense workshop by and for Womxn of Color to close #16DaysofActivism to end violence against womxn. Workshop will be lead by Sensei Topaz Shirlita Kenney-Du Bois and is considerate of trigger issues and body ability.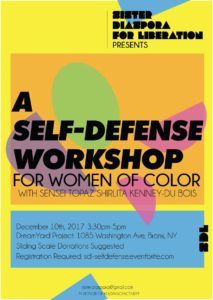 Register here!
https://www.eventbrite.com/e/sdl-self-defense-workshop-for-womxn-of-color-tickets-39527535924