We are Sister Diaspora for Liberation, a grassroots diasporic intersectional feminist collective rooted in a love ethic and healing by and for womxn of color from the African, Asian, and Indigenous diasporas. We organize through a love ethic, understanding that our collective liberation and freedom is rooted in a love for ourselves and each other and putting that at the forefront of our political practice.
Our purpose is to build sisterhood amongst womxn of color through a social justice lens. The collective provides a space where WoC can support each other in areas of the creative arts, healing, and political activism. Our most important priority is to foster authentic relationships between members, so each individual feels grounded in the collective and at home to be their true selves, because Sisterhood is power and it is the foundation for our liberation. We believe that when womxn of color unite, we can create transformational change.
Liberation is our Politics & Love is our Ethic.
Womxn of Color Fight Back! On December 10th, 2017, International Human Rights Day, SDL held a self defense workshop by and for womxn of color to close #16days of activism to end gender based violence.  Aside from learning important, possibly life saving defense skills, the event held a safe space to build community and sisterhood and empower survivors. Check out a 360 video below of the workshop.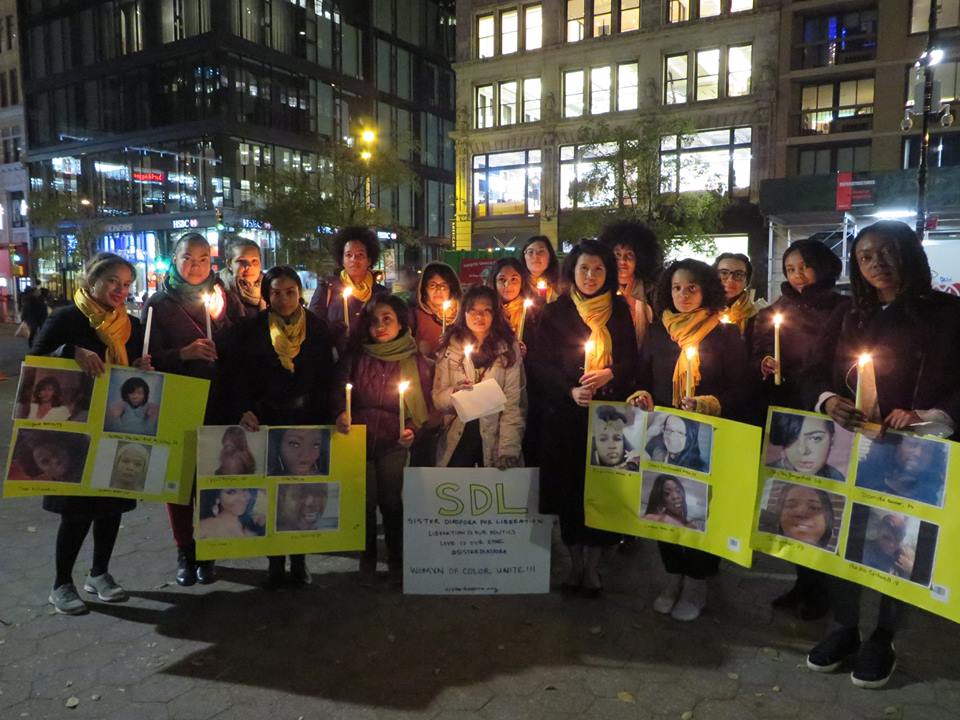 November 25th marked the start of #16Days of Activism. This years theme was "Together we can end Gender Based Violence in education."  Gender Based Violence occurs in many spaces and it  is our hope to continue to eradicate the systems that perpetuate the lack of investment in our girls.  In our world today GBV comes in many shapes and forms, whether it be cyberbullying, displacement of womxn and children because of home and war violence or a lack of access to quality schools that provide a gender equal curriculum.  Throughout the #16Days, Sister Diaspora  highlighted stories of womxn affected by Gender Based Violence. We held a vigil for our sisters murdered this year,  called  our local representatives to push for legislation protecting victims of domestic violence  and ended #16Days of Activism on  December 10th with a self-defense workshop for womxn of color.  #EndGBV
Below is a video of our 'Remembering Our Sisters' vigil  held on November 30th.